Corr.: - Please tell us a bit about you. What was your family like?
S.Z.: - I was born in Kyiv, Ukraine, near one of the most famous Ukrainian shrines – Kyiv-Pechersk Lavra. Now, I live near the Embassy of Vatican in Ukraine– windows to windows. My legs brought me there – I didn't even know what surrounded me, but my soul always strains towards such pure places. And we have a private house on the lands where the monks used to live just outside the city.
I was probably destined to create positive and bright works that kindle the hearts of people and which make their life more pleasant and happier. As a child, I was fond of music and so I asked to go to a music school where I studied the cello. Creativity has always seethed in my blood, and I wanted to give a lot of love to this world, but it was not the time yet. It was necessary for me to gain life experience. It is difficult to create something new and beautiful without experience. Although children are the brightest and most positive that we have, through them you can get so much light and warmth in our world. Everyone has their path.
As a child, I was hyperactive and could not keep still for a minute. At school, I always had poor behavior, and it was difficult for my teachers to deal with me. My irrepressible energy was in full swing but holding me back was the cello. For a few hours a day, I calmed while I enthusiastically played my favorite musical instrument. On the other hand, painting was not my great interest – in fact painting was the last thing I wanted to do in my life. I had to be a completely different person to come to visual art and in fact, painting did not come to me until I was 33-years-old. For that I am very grateful to my parents.
My parents always instilled in me a taste for beauty. I grew up in a wonderful family, my father Vitaly and my mother Lyudmila brought us up , and while they always worried about us, they also gave us our own freedom. Each person has to make many mistakes and go through great trials to climb "the ladder of life"! I also have an older brother Sergey who is 3 years older than me, and he always defended me at school and in life. He is my senior and more experienced companion, friend, and mentor. We go along together in life, we have worked together for many years, this is the coolest experience that I have gained for future achievements! I am very grateful to him for this!
Mom creates comfort and beauty in the family and she takes care of the health of relatives and friends. She has so much love and care in her heart that perhaps there is enough for the whole world. She is always ahead of the curve being aware of trends and innovations. She is a force of nature!
My dad is totally incredible person. He creates such a reality around himself that everyone wants to be involved in it. When we were children, every day he came up with something new for us... chess tournaments, hobby clubs, learning languages, we repaired, soldered, assembled, studied ... And he can still play table tennis giving it to the young! How all of this really helped me in my life! At that time not everything was clear to me, but now I am endlessly grateful for everything that happened to me!
Today, we often meet as a big friendly family, sometimes just to have lunch. We love each other very much, we understand that the most valuable thing in life is our family! We were together on New Year's Day too. I often visit my parents. They truly are my best friends!
And I am very grateful to my family for understanding me whenever I decided to do something else that was exactly the opposite of what I was doing before.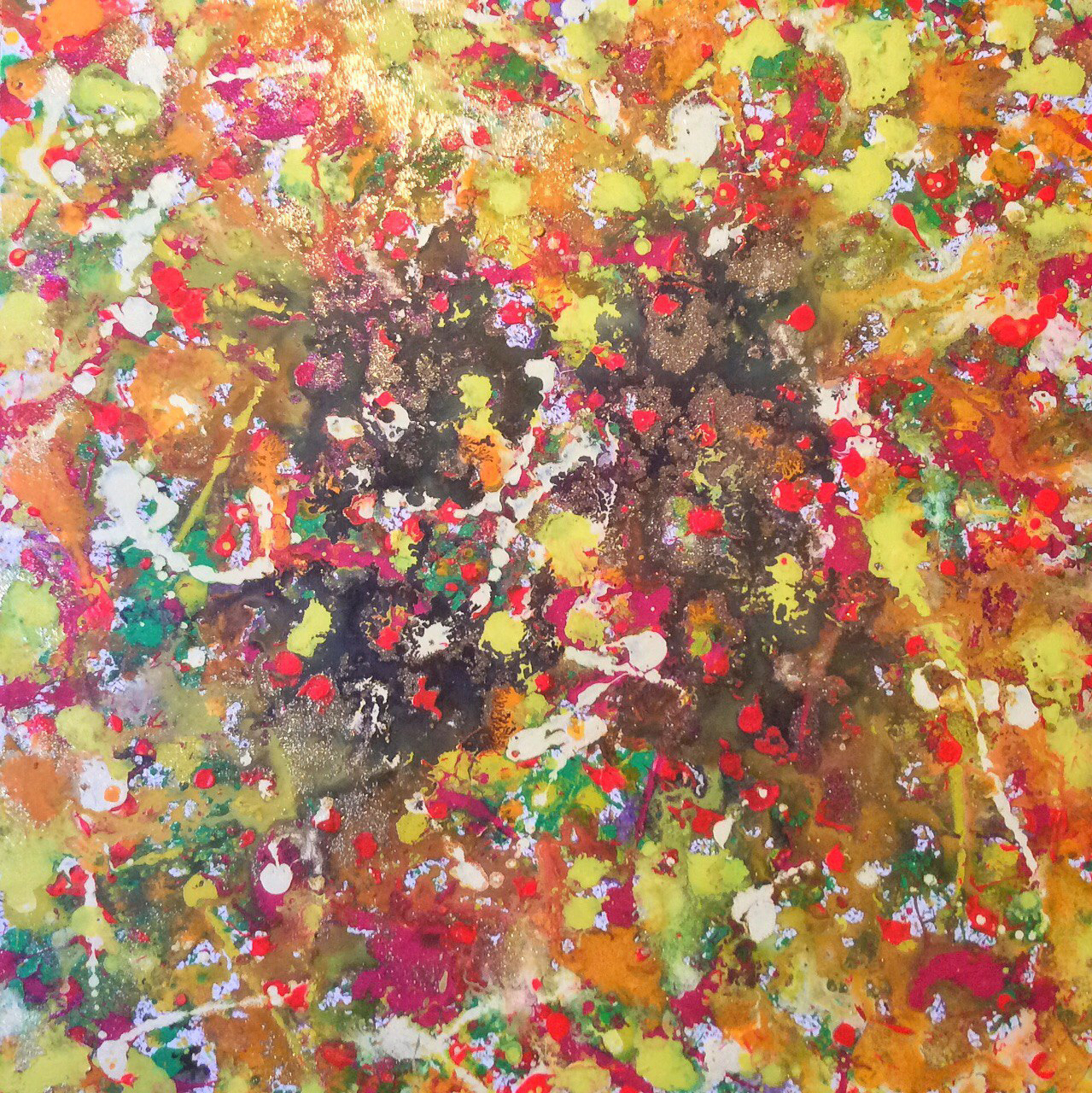 Corr.: - How did your creative career begin? What was the background of the beginning of your creative activity and what milestones can you identify?
S.Z.: - I have worked in a very interesting business, but in life there is a lot to try. I wanted to find my own deal! I was 33, a time of change. It was 2007-2008 and my father had just developed a new direction related to art. He had his own gallery, he was engaged in paintings and antiques, he helped the wealthy to create collections. I learned a lot from him, but my soul wanted more. In 2008, there was a financial crisis, prices collapsed, and art lost its appeal for society since basically everyone was thinking about how not to lose their business or avoid hunger. That's when I decided that I had to change myself, and if I couldn't change the situation, I had to work on myself and change my attitude towards reality. This was facilitated by a life crisis; I became sad and not interested in living in my previous "shell". I realized that I was at the bottom, that nothing made me happy; my body was destroyed, and my soul and body ached! But the most interesting thing is that when you reach the bottom, you just need to push off and fly up. And if you swim all your life in a muddy swamp and do not reach the bottom, then you can swim like this all your life. But sometimes such chances arise, you need to use them, and not get depressed and shout that everything is gone!
Therefore, do not be afraid of crises. Friends, this is the time for change, the right moment for becoming better! How often do we find that magic kick that will force us to leave our comfort zone and leave our familiar warm places? That magic kick is necessary for our development and self-improvement.
So, a new stage of life began. And I decided to seclude myself from society and friends for a long while. This lasted for about 1.5-2 years. At first, I took-up cooking, then psychology and dozens of new hobbies that radically changed me. I lost 30 kilograms. Even my best friends couldn't recognize me, and the guards stopped letting me cross the border, the customs officials kept asking me who was that person in the passport photo and who's passport I was using. It became so bad that I had to change my passport.
But what was important is that my eyes began to glow. And at one point, everything led me to be able to paint. It shocked me! I thought I had a talent for many things, but not for this. "Never" is a long word! Everything can turn upside down.
After returning to society, I have become a completely different person, with tremendous willpower and inner core. By faith that we can do everything! One has only to want and move forward without fears and doubts. I love the dialogue from the Fast and the Furious: Tokyo Drift :"-Look at these people below. They live by the rules. What's the point? Fear consumed them anyway!
-And if they stop being afraid, then what?
-Then everything is simple! You choose the path and go without looking back!".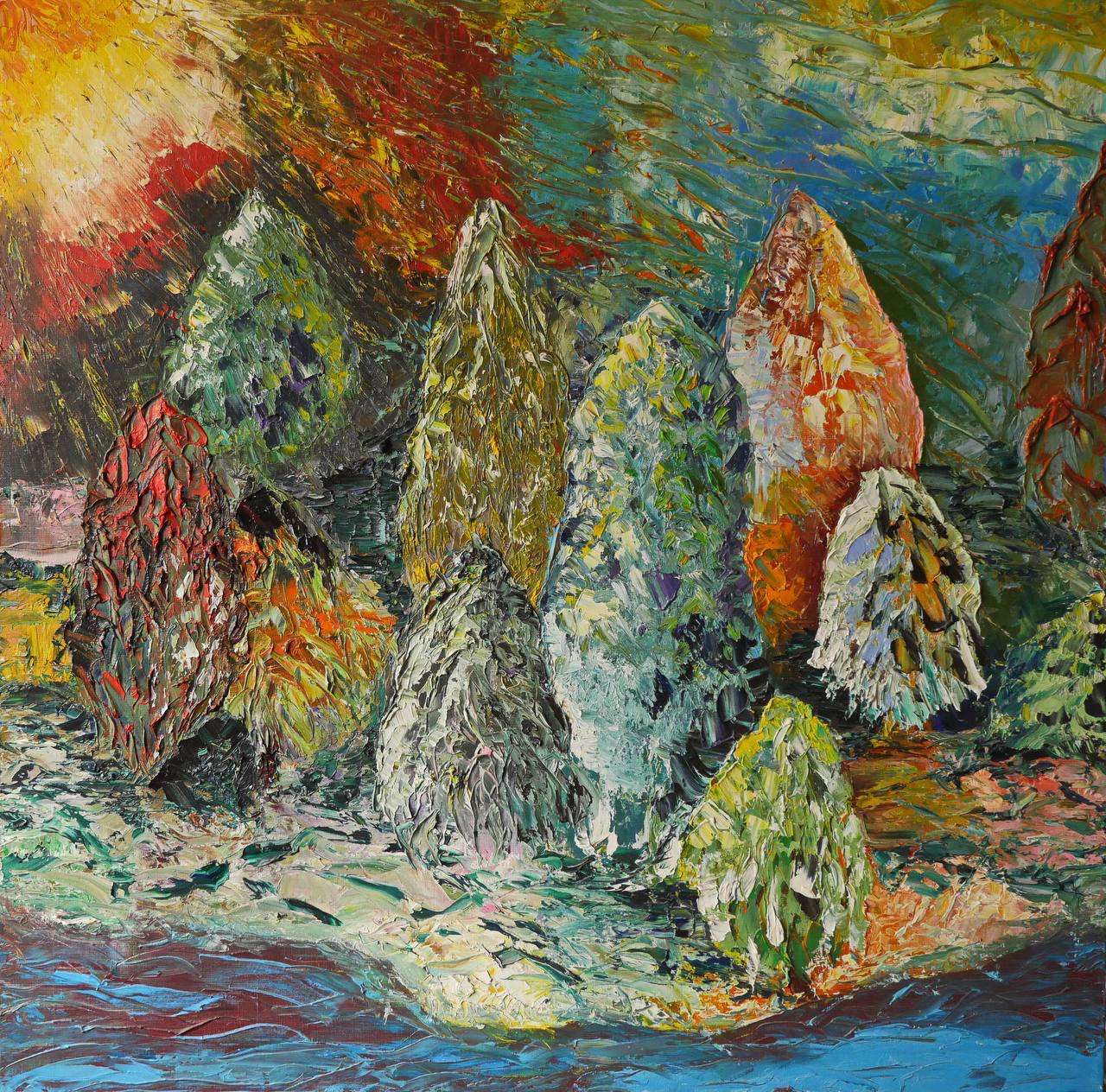 Corr.:- Please tell us more about your unique adhesive weaving technique. How exactly did you come up with this way of creating creative images?
S.Z.: - I worked at home for a long time, but I had to try my hand at social activities. Thus, I, a person without any art education, three years after the beginning of my creative activity, began to perform the duties of the chief artist of the Museum of the History of Kyiv.
It was a significant period of my activity, as it was in this museum that I came up with my unique technique of weaving with adhesive materials. It still cannot be repeated anywhere in the world. I learned it from nature itself. For months, I observed how spiders weave their webs, and then I began to weave my own. At the Museum, designing numerous exhibitions, I saw the properties of adhesive materials to stretch. After a while, I began to use them directly in my paintings. By the way, I am called Spider-Man in the art world. Even the genius of our time, the Ukrainian artist Ivan Marchuk, was amazed at the webs which I weave in my paintings.
This is such a special bliss-out. I don't even think when I create my works, I just let my hand go and create, I'm in a state of "flow". It seems that my hands are no longer controlled by me, but by Something or Someone from above. The state of flight, when the soul and body merge together and you become a musical instrument on which the heavens play. I am engaged in meditation, spiritual practices, do not drink or smoke, nor do I use drugs. I am a person without bad habits. I give those around me joy and light, so I don't feel that I have the right to be under the influence of stimulants. This is my energy, sunny energy, and I like it when my paintings have a fantastic healing effect; under their influence people change and become better. Their eyes start to glow and even those who are not very positive break into smiles. And when their eyes are burning, even if not for a long, I see their pure souls. And this it is worth living, believe me!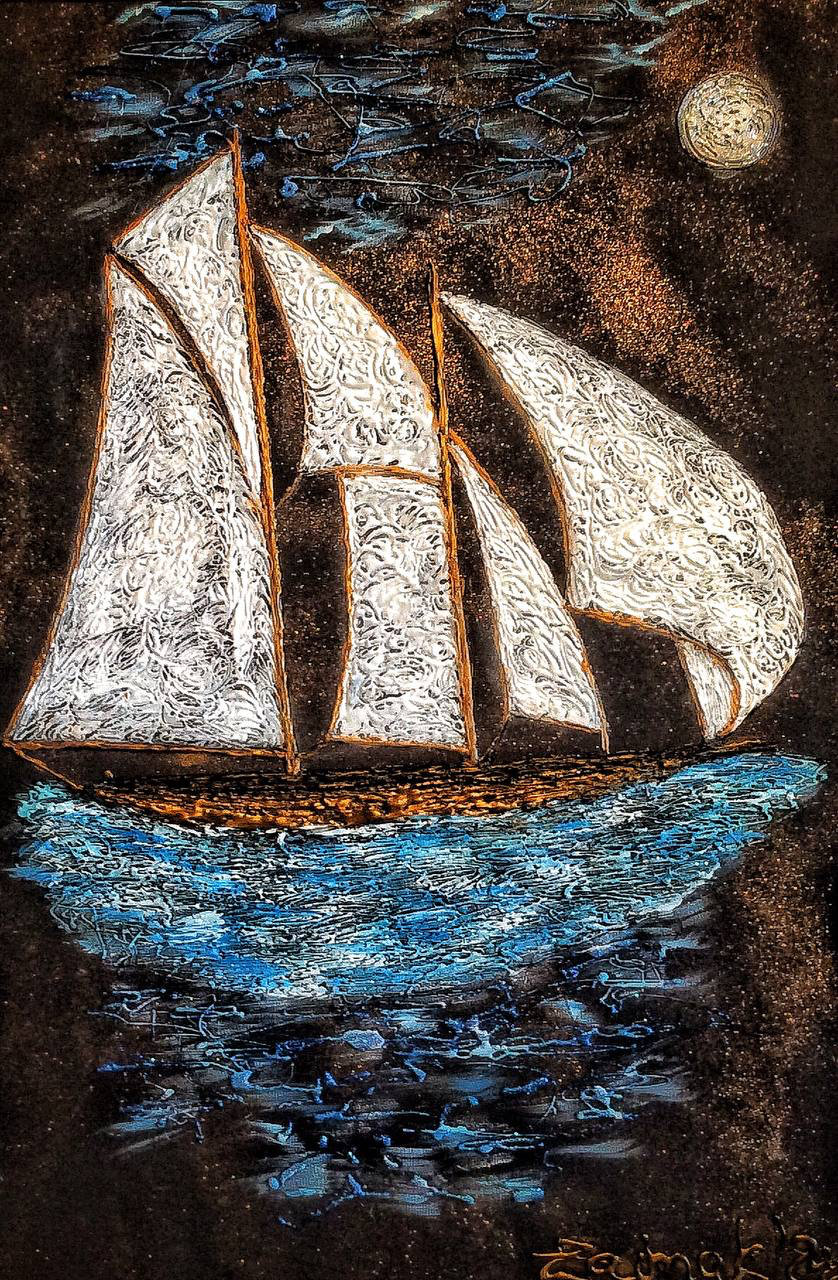 Corr.: - In addition to unique paintings, you create successful collections of clothes and fashionable handbags. Tell us a little about your collections and this kind of creativity.
S.Z.: - Apart from paintings, I came to fashion design 4 years ago. I create incredible masterpieces on T-shirts, jackets, sweaters, hats, caps, jeans and even shoes! I love working with gold paints and glitter. If you want to be in the spotlight, then you definitely come to me! What I create is impossible not to be noticed even in a crowd of people. People often come up to me and just start touching and feeling the patterns on my clothes. They are very voluminous, textured, let me say, they are alive! I have already participated in a huge number of shows, before the pandemic (and even during it) I was invited almost every week to the next fashion event, where they really wanted to see what I create. My work, without false modesty, delights others. People on the streets even just thank me for dressing like that. That it is so cool and unusual that it always draws the eye of almost everyone. And when they buy my designer things, clients say that the patterns light-up on them. As an example, girls often buy lions on T-shirts because they want to feel protected. Later, they tell me that the T-shirts become their amulets. Dressing my designer clothes, they feel strong and just omnipotent! Weaknesses disappear, and they turn into Super-women! And men become also omnipotent (smiling).
Corr.:- The modern world is more and more complex, pandemics and other trials appear, about which humanity had no idea before. You create very positive works that energize others with positive energy. What gives you the enthusiasm for creating your paintings and collections and what inspires you?
S.Z.: - Our world will never be the same again. In a pandemic, new realities of life have opened up. Most people have gone online, many have stopped communicating with the outside world, they only use all kinds of gadgets. A very difficult time, in fact. The main thing in these realities is not to lose yourself, not to be overcome with panic and not to let fear in yourself. People lose their face, their joy, and their smiles. Recently, I listened to a powerful business and personal growth coach... He said that in the future, the most valuable investment would be just the positive and the smile of a person.
We stop smiling in pursuit of an illusory future, forgetting that we are living right now! Not yesterday, not tomorrow, but right at this moment in time. We are afraid for our health, career, finances... But after all, we just attract all our fears into our lives. This is, like, our desires come true.
We often think about old experiences, about what might not work because it didn't work before. About postponing "for a rainy day" – and it will definitely come! It is black! Therefore, one must realize that we are all mortal. This is the main awareness of our life. We die every day in the evening and wakeup again in the morning with the rising sun. When we stop thinking about how many years of life we still have left and how to catch on life in order to feel immortal, then we will begin to live for real! Enjoy the little things! Enjoy the sunrises, excellent food, coffee in the morning, the wonderful aromas that surround us, hear and feel the words of a beloved one who loves you. Or enjoy the wonderful music that caresses our ears.
Life is beautiful! You just have stop and enjoy this moment "right now." Be greedy for every moment, adore life in all its forms. Surround yourself with exactly those people who do not pull you down, those who make you become better. Always strive to learn new things, to learn, not to stick with all parts of your body to the comfort zone. You can't resist anyway. The day will come, and the storm will sweep you away if you yourself do not want to change. My brother always teaches me if I forget: "Slava, try to be happy right now." If you believe that if something changes, you will be happy in the future, then you are always unhappy while waiting for this so-called "happy future." The most unhappy person is the one who lives with expectations. There is an excellent Ukrainian proverb that says… "Dreams give wings to fools." It's worth considering, isn't it?
So, I draw inspiration and joy from the little things! Life-long little things! Of everything that surrounds me! And also, the beauty of nature, women. The main thing is that the heart burns! I would never create cool bright and positive works without being in love with life, beauty, and a woman. Love must live in the heart! The Muse is very important in my life. This does not always happen, but now everything is wonderful. I was lucky, I have a wonderful Muse, whom I love very much and thanks to this, I now have a lot of projects, exhibitions, and new works. I am on fire and those around me feel it. There is less and less love in the world and the task of artists like me is to charge the space with beauty, positive, happiness, and love! To give people something, without what life is not sweet, without what it is boring and sad to live!
Corr.: - You are the recipient of an award from the Andy Warhol family, one of the founders of the Pop Art movement. Tell us, do you consider yourself to be in this direction and what is your attitude towards the personality of Andy Warhol?
S.Z.: - As for the award from the Andy Warhol family ... Yes, I am the only artist in Ukraine who has received this award. All this is not for nothing. I deserved it. With the help of my vision of life, mood, and attitude. By what I create and how I influence the world around me. I am very close to the spirit of Warhol, who created a holiday around him. His "Factory" was a fantastic place where all celebrities gathered, in which there was a regime of freedom and permissiveness. Such a state in a state. I am also called the Holiday Man, and for the most significant holiday –New Year– museums and galleries sign contracts with me at the beginning of the year, because I create the best atmosphere and the most positive mood. And this is something that is very important exactly when the new year begins. I, of course, do not refer myself to pop-art in any way. Everything is unique for me and in a single copy. I create works that I myself cannot repeat again. But the spirit of Warhol charges with his innovation and the fact that with a great desire, an artist can change this world!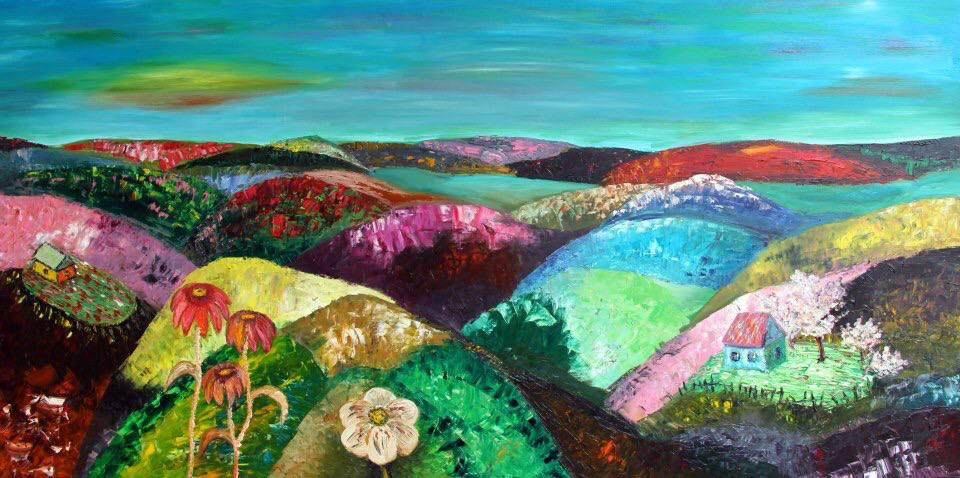 Corr.: - Recently, you have been increasingly identified as a European artist. Your popularity among Europeans is growing, especially in the Mediterranean region, including Spain. Tell us about your attitude towards this country.
S.Z.: - I can also be called a Spanish-Ukrainian artist and designer. Our big and friendly family simply adores Spain, at every opportunity we try to escape to this wonderful country and recharge ourselves with inspiration and joy. We are very impressed by the Spaniards; they are always very smiling and friendly. We can say that we consider Spain a second home. Architecture, art, design... I like everything very much. You can travel or live in Spain for a long time, and yet you never completely know all the delights of this incredible and fantastic country. Dali, Picasso, Velazquez, Miro, Gaudi, Goya, El Greco... Outstanding artists and architects (as well as musicians, writers, designers, etc.) of Spain can be enumerated and enjoyed for an endlessly long time. Everything in Spain is saturated with beauty and inspiration, getting into this gorgeous reality, you feel yourself involved in the perfect world of culture, which has been created here for millennia. Often deriving new ideas in Spain, I am charged with sunny emotions and bring to life my ideas in Ukraine. A land of love, sun, white beaches and endless delightful seas - it's just a wonder to be here. I would love to live in this beauty, but it is not always possible. And also, a dream must live in the heart - and this is a dream about the sea!
Corr.:- Please tell us about your creative plans for the coming year.
S.Z.: - The plans for 2021 are ambitious. I recently signed a contract with partners who will now handle all my business and organize my exhibitions around the world. Now I have two bright and cool exhibitions, but they end soon. Quite soon is the opening of a new exhibition in Ukraine, but in a very famous and respectable place. At the moment, I am opening my own gallery with a famous artist in the form of an art fair, where about 30 famous authors will be represented. Sculpture, painting, graphics... You have to see it with your own eyes. I also act in films, I even offered to test myself as a producer. I have got an offer to become director of the European Fund for Animal Protection for Ukraine.  I will be organizing several more festivals. But the biggest plans are to create new incredible paintings, designer items, and design items for the home. I am opening a new online store where you will be able to buy all this. So follow my activity, my works will definitely change your life for the better. Add joy and beauty to your life.
And the most ambitious plan is, I just want to change this world! Make it kinder, more fun, more comfortable. So that we relate to everything around us not as to an aggressive environment, but as to a friendly World that takes care of us and in which everything is there so that we are happy and abundant! And that we definitely live in harmony and love! Always!
Corr.: - Thank you for the interview and a huge boost of positive energy!
S.Z.: - Thank you!
Slava Zaimak is one of the most popular contemporary art artists in Ukraine, designer, Andy Warhol award recipient, who works in a unique author's spider web technique of adhesive weaving (a special solution of adhesive materials applied to canvas or clothes with very fast and precise movements).
Zaimak discovered amazing patterns of real nature and a revolutionary new way of presenting them on a two-dimensional plane. Therefore, in the artist's paintings and designer clothes, perspective and chiaroscuro are absent, instead of them - unusual, fantasy webbed forms are attached to canvas and clothes, and here and there, breaking out of two-dimensional space, they liven up. His collections are unique, and  his technique has not yet being repeated anywhere in the world.
Zaimak's works can be found in private collections in Europe, Asia, America, Africa, and elsewhere around the world. Also annually at numerous personal and joint exhibitions, as well as fashion shows which are very popular among the capital's elite. In 2015, Zaimak received an award from the Andy Warhol family. Now Zaimak is the chief artist of the famous theater "Suzir'ya".
All collections of clothes, decor and paintings of Zaimak are created under the influence of the beauty of nature and women, since Ukraine runs over with inspiration and beauty. At the exhibitions and fashion shows of Zaimak, you will commit to, even for a few minutes, the world of happiness, joy, and love.
Here is just a small list of organizations and brands that appreciated his contribution to world culture: "Toyota," "Lexus," "Maserati," "Ducati," Premier Hotel "Rus," Premier Hotel "Lybed," Verkhovna Rada of Ukraine, National Bank of Ukraine, "Neftegaz," National Philharmonia, numerous museums, galleries, and theaters.
Contact information:
Viber, Telegram:
+380674010122,
email:This email address is being protected from spambots. You need JavaScript enabled to view it.,
Facebookhttps://www.facebook.com/slava.zaimakarts,
Instagram @slava_zaimak_artist